Financial Conduct Authority Application Update
Proud to be authorised and regulated by the Financial Conduct Authority 965287. Read more here.
Coronavirus (COVID-19)
Current advice and recommendations
28th January 2022:
Given the recent announcement in terms of a relaxation to the current Covid regulations as from Monday 31st January 2022 it will now be permissible for mourners to stand in the site foyer to observe the service once in progress.
If you have any questions about a service you are attending, please contact a member of our staff.
—
23rd December 2021:
Due to the recent increase in general infection rates, from December 26th 2021 all Memoria sites foyers will now be closed-off to the public during services – only Memoria staff and Funeral Directors overseeing the service will be able to use the foyer to observe services. For those mourners not able to sit in the chapel the external doors will remain open for people to see the service taking place, additionally external speakers will remain on, so the service will be audible to those standing outside.
If you have any questions about a service you are attending, please contact a member of our staff.
—
29th November 2021:
Mandatory Wearing of Face Coverings
Following the government announcement, from Monday 29th November 2021, the wearing of face coverings are to be made mandatory once again inside shops and indoor public areas.
Owing to this change, all visitors to Memoria Memorial Parks and Crematoria from the 29th November 2021 must wear face coverings when entering buildings. If you are exempt from wearing a face covering, you must present an exemption certificate to a member of our staff on entering the facility. If you are unable to present an exemption certificate, you will be refused entry unless you agree to wear a face covering.
As always, our staff will be performing a full extensive clean down of the public areas between services.
If you have any questions about a service you are attending, please contact a member of our staff.
—
7th August 2020:
The majority of Covid-19 restrictions ended in Wales on 7th August 2021.
All Memoria Crematoria in Wales will now instigate the following changes that will come into effect from this date:
Limit on attendees – There will be no limit on the number of people who can attend a service. If you are expecting a large service, please book a double slot to avoid services overrunning their allotted time slot. The time between services allows our staff to perform a full and extensive clean down of all public areas. Please discuss this option with your nominated Funeral Director.
Face coverings – face coverings will remain a legal requirement indoors.
Social distancing – All seating will be back to normal, and there will be no social distancing rules within our facilities. We do however ask people to be mindful of others while attending services.
Ventilation – To help reduce the rate of internal transmission, we will continue to open windows in our chapels where we can.
QR codes – Check-in points and sanitization stations will still be in place, and we encourage those who use our facilities to check in while attending a service and sanitize where possible.
—
14th July 2021:
The majority of Covid-19 restrictions in England will end on 19th July 2021.
All Memoria Crematoria in England will now instigate the following changes that will come into effect from this date:
Limit on attendees – There will be no limit on the number of people who can attend a service. If you are expecting a large service, please book a double slot to avoid services overrunning their allotted time slot. The time between services allows our staff to perform a full and extensive clean down of all public areas. Please discuss this option with your nominated Funeral Director.
Face coverings – It will no longer be mandatory for people to wear face masks while inside the chapel, but we do ask people to be sympathetic towards others who still wish to wear a face mask. We would highlight the continued guidance that emphasises wearing a face covering reduces the transmission rate.
Social distancing – All seating will be back to normal, and there will be no social distancing rules within our facilities. We do however ask people to be mindful of others while attending services.
Ventilation – To help reduce the rate of internal transmission, we will continue to open windows in our chapels where we can.
QR codes – Check-in points and sanitization stations will still be in place, and we encourage those who use our facilities to check in while attending a service and sanitize where possible.
—
12th May 2021:
Increase to the current limit of mourners allowed to attend a service at a Memoria crematoria (England only)
Following the recent government announcement, from 17th May 2021, the limit on the number of mourners allowed to attend a service at a Memoria Crematoria (except in Wales) will increase from the current 30 to the revised figure as shown below:
Kirkleatham: 54
Barnby Moor: 60
Amber Valley: 56
Waveney: 60
North Herts: 60
South Leicester: 54
South Oxfordshire: 57
North Oxfordshire: 68
Please note, the following rules will remain in place at all sites:
Face masks MUST be worn at all times inside the building unless visitors have a valid reason why they cannot wear one.
Families will be seated by the funeral director as normal.
Visitors must follow the seating guidance unless authorised by the funeral director to sit in their family bubble.
Members of the public are not allowed to view the service from the foyer. This area is a safe zone for crematorium and funeral staff to observe the service.
All visitors attending the service from outside must follow the self-distancing guidance.
For your added protection, all areas will be sanitised following every service.
—
7th August 2020:
Wearing of Face Coverings – Update
From 08/08/2020 there are now some places where you must wear a face covering by law.*
These include funeral homes, crematoria and burial ground chapels.
Memoria Ltd would therefore politely ask that all mourners intending to visit any of our sites now comply with this latest ruling.
You will be expected to wear a face covering on entering any of our facilities, these must be kept on until you leave unless there is a reasonable excuse for removing it or you have a legitimate exemption.
In terms of clergy, celebrants and officiants if you are delivering a service it is permissible for a face covering to be removed during the actual service provided that you are a minimum of two metres away from the congregation, a face covering should still be worn on entry and once the service has concluded.
(*In England, currently advisory in Wales)
For further information please visit: https://www.gov.uk/
—
16th July 2020:
Face Masks
Further to the recent press release from the government regarding the use of face masks indoors:
"You should wear a face-covering in enclosed public spaces where social distancing isn't possible and where you will come into contact with people you do not normally meet. This is most relevant for short periods indoors in crowded areas".
Memoria kindly ask that all visitors and funeral staff visiting any of our facilities wear face masks when entering the building.
This will come into effect on the 24th July 2020 in line with the government guidelines. We have taken this decision to protect those using our facilities and our staff that clean and sanitise all areas before and after every service.
To prevent any confusion on the day of a funeral, Funeral Directors are asked to please inform all their staff and families that will be using our facilities in the upcoming period.
These guidelines will remain under review and any further changes will be communicated accordingly.
If you have any questions relating to this update, please contact the site manager at the Memoria facility you intend to use.
—
24th June 2020
Due to recent Government advice, families should be advised that Memoria Ltd intend to increase the attendance levels from the current 20 to a maximum of 30 people at all their sites except in Wales & at South Leicester. This is effective from July 4th 2020.
—
13th May 2020:
Based on the updated Government advice of 10th May 2020, families should be advised to restrict attendance to a maximum of 20 people. This is effective from May 13th 2020.
—
20th April 2020:
Reopening of Memorial Gardens:
Following the Government's revised instructions with reference to the closure of memorial gardens to the general public, Memoria Ltd are pleased to be able to advise that our memorial gardens have now re-opened.
We would politely ask that if you visit our sites that you respect the current social distancing rules should you come onto our grounds at the same time as other members of the public.
Please note that for now our offices will remain closed and any enquiries should be made by phone or e-mail.
Communication to all Funeral Directors, Celebrants and other third-party visitors:
As the Coronavirus outbreak (Covid-19) continues to develop and impact on all of our lives, I want to reassure you that our priority is to continue to provide the highest standards of service and facility to our clients while protecting the health and wellbeing of the bereaved, our staff, your staff, you and the public at large.
We are determined to keep offering services as opposed to taking a direct cremation stance, as taken by some municipal crematoria already. However, if we fail to help in the curbing of the spread of the virus, we may all be faced with this as part of a government directive.
We have already carried out significant preparations to ensure we can maintain our service to the best level we can and will continue to make decisions based on official advice from our Government and health authorities. It is, therefore, vital that we work together to deliver this consistent message so bereaved families can take some comfort of exactly what to expect at this most difficult of times.
We have had to make some very difficult decisions in order to maintain respect and dignity for the deceased whilst simultaneously protecting the health and safety of all concerned, which we have a legal requirement to do.
So, it is crucial that we all work together on a number of measures designed to ensure the safety of everyone whilst continuing to serve the bereaved families who put their trust in us all.
I can confirm that we will be making the following changes with immediate effect, with the exception of the attendance restriction which will come into force on 26th March 2020 to give Funeral Directors a chance to advise all clients.
—
26th March 2020:
As per the updated Government advice of 23rd March 2020, families should be advised to restrict attendance to 'immediate family members only' and to a maximum of 10 people. We have published the government's guidelines at the end of this notice.
On arrival at the crematorium, mourners are requested to stay in their vehicles or wait outside. Chapel doors will be locked until 10 minutes prior to a service.
Hand sanitizer will be placed on every public entrance to the building, signs will be in place stating anyone entering will be required to clean hands.
Our staff will wear gloves at all times during the service and gloves will be provided for attendees wishing to use them.
Foyers and waiting rooms, where applicable, whether for families, Funeral Directors or any other visitors will be closed at all times other than to allow access to the funeral service as mentioned above.
No one will be allowed to enter the Chapel until asked to do so by our chapel attendant. Once services commence only the Funeral Director will be permitted to stay in the chapel, all other funeral service operatives must leave the building.
Crematorium teams will open and close the chapel doors, thereby restricting the number of people touching the handles.
In between services, the hard surfaces in the Chapel will be wiped down with suitable cleaning equipment by the crematorium staff. This will include chair tops, pews, door handles, catafalque top and toilets etc.
Mourners should be seated so that groups are a distance away from each other.
Bins will be provided on entry and exit to the chapel and signage placed advising families to dispose of gloves and any rubbish they have, bins will be emptied after each service.
We will not insist that curtains are closed following committal of the deceased, please follow the wishes of the family but please also discourage mourners from touching or kissing the coffin as they leave.
Open coffin services will not be permitted at any of our crematoria.
All coffins must be closed when they arrive at any of our sites and must remain closed at all times.
With immediate effect and for the foreseeable future we will not be offering a Bearer Service at any of our sites.
Funeral Directors are asked to use a wheeled bier where possible to prevent bearers being too close together.
Funeral Directors and Bearers should leave the service via the chapel door. They will not have access to the cremation areas or our staff room areas for the time being.
We will not be providing drinks to any visitors for the foreseeable future, including Funeral Directors.
We are removing all service books, hymn books, bibles etc.
Funeral Directors must supply service sheets/orders of service for their clients, if required. All service sheets are to be taken away at the end of the service or placed into a chapel bin as they leave the chapel.
Funeral Directors are asked to minimize the frequency and number of staff visiting our crematorium offices.
Full cremation paperwork must be received by the crematorium 48 hours before a service.
The use of electronic forms is encouraged as much as possible. Care must be taken to ensure that information is shared in a way that is GDPR compliant.
Our offices will remain locked at all times.
Forms should be dropped off by posting through the letterbox or postbox rather than taken into the office. This means that forms won't be signed for, so Funeral Directors should confirm by phone or email that the forms have been delivered and check they have been received.
Only one person should come into reception to collect cremated remains, whether family or Funeral Directors. Funeral Directors should call ahead and notify the crematorium when they wish to collect the same.
Please advise clients that memorial consultations will be postponed until further notice.
We are all operating at an unprecedented time and during the biggest crisis that this country has seen since the Second World War. We have a responsibility to families and each other to work together for the collective good of us all. We need to be the rock-solid pillars of an industry we are all proud to be part of and times like these are made easier for others by the strong and decisive actions of brave individuals like you. I know we will step up to this challenge together and so we will get through it together.
From all at Memoria, we offer you our continued support and every good wish to stay safe and healthy. If we are all vigilant in our actions, we will continue to serve the bereaved in the way both we and they would wish.
Ensuring you of our most courteous attention at all times.
Howard Hodgson
CEO Memoria Ltd.
—
NEW RULES ON STAYING AT HOME AND AWAY FROM OTHERS
The single most important action we can all take, in fighting coronavirus, is to stay at home in order to protect the NHS and save lives.
When we reduce our day-to-day contact with other people, we will reduce the spread of the infection. That is why the government is now (23 March 2020) introducing three new measures.
Requiring people to stay at home, except for very limited purposes
Closing non-essential shops and community spaces
Stopping all gatherings of more than two people in public
Every citizen must comply with these new measures. The relevant authorities, including the police, will be given the powers to enforce them – including through fines and dispersing gatherings.
These measures are effective immediately. The Government will look again at these measures in three weeks and relax them if the evidence shows this is possible.
STAYING AT HOME
You should only leave the house for one of four reasons.
Shopping for basic necessities​, for example food and medicine, which must be as infrequent as possible.
One form of exercise a day, for example a run, walk, or cycle – alone or with members of your household.
Any medical need​, or to provide care or to help a vulnerable person.
Travelling to and from work​, but only where this absolutely cannot be done from home.
These four reasons are exceptions – even when doing these activities, you should be minimising time spent outside of the home and ensuring you are 2 metres apart from anyone outside of your household.
These measures must be followed by everyone.
Separate advice is available for individuals or households who are isolating​, and for the ​most vulnerable who need to be shielded​.
If you work in a critical sector outlined in this ​guidance​, or your child has been identified as vulnerable, you can continue to take your children to school. ​Where parents do not live in the same household, children under 18 can be moved between their parents' homes
CLOSING NON-ESSENTIAL SHOPS AND PUBLIC SPACES
Last week, the Government ordered certain businesses – including pubs, cinemas and theatres – to close.
The Government is now extending this requirement to a further set of businesses and other venues, including:
All non-essential retail stores – this will include clothing and electronics stores; hair, beauty and nail salons; and outdoor and indoor markets, excluding food markets.
Libraries, community centres, and youth centres​.
Indoor and outdoor leisure facilities​ such as bowling alleys, arcades and soft play facilities.
Communal places within parks​, such as playgrounds, sports courts and outdoor gyms.
Places of worship, ​except for funerals attended by immediate families.
Hotels, hostels, bed and breakfasts, campsites, caravan parks, and boarding houses for commercial/leisure use (excluding permanent residents and key workers).
More detailed information can be found ​here​, including a full list of those businesses and other venues that must close.
Businesses and other venues not on this list may remain open.
STOPPING PUBLIC GATHERINGS
To make sure people are staying at home and apart from each other, the Government is also ​stopping all public gatherings of more than two people​. There are only two exceptions to this rule:
Where the gathering is of a group of people who live togethe​r – this means that a parent can, for example, take their children to the shops if there is no option to leave them at home.
Where the gathering is essential for work purposes – but workers should be trying to minimise all meetings and other gatherings in the workplace.
In addition, the Government is stopping social events, including weddings, baptisms and other religious ceremonies.
This will exclude funerals, which can be attended by immediate family.
DELIVERING THESE NEW MEASURES
These measures will reduce our day to day contact with other people.
They are a vital part of our efforts to reduce the rate of transmission of coronavirus.
Every citizen is instructed to comply with these new measures.
The Government will therefore be ensuring the police and other relevant authorities have the powers to enforce them, including through fines and dispersing gatherings where people do not comply.
They will initially last for the three weeks from 23 March, at which point the Government will look at them again and relax them if the evidence shows this is possible.
Crematorium manager reflects on 'a very challenging year'
A Suffolk crematorium manager has described the heart-breaking realities of funerals during the coronavirus crisis.
While the Waveney Memorial Park and Crematorium used to be able to welcome up to 200 mourners at one time, it has been very different over the past year.
The team at the site in Ellough – which is owned and operated by the Memoria Group – has worked hard to ensure that grieving families are comforted and supported, as their loved ones have been given a service with dignity and respect.
With hymns replaced by recordings, mourners sitting two metres apart, and with only 10 people allowed into each service at one point, manager Gillian Hyde said: "It has been a very challenging year.
"We have had to put procedures in place very, very quickly.
"One week a family had planned 100 people coming to a service and overnight they were told they could only have 10 due to the Government restrictions."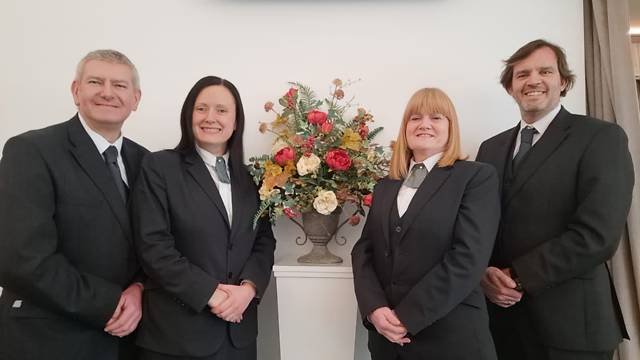 With a small team rising to the challenge, they've worked split shifts to keep the site running while supporting grieving families at some of the toughest times in their lives.
Mrs Hyde said: "It must have been absolutely dreadful for families.
"The restrictions have just added to their stress and distress.
"If you see someone crying you automatically want to hug them but you can't.
"We always have compassion at the heart of everything we do but we also need to be safe at the same time."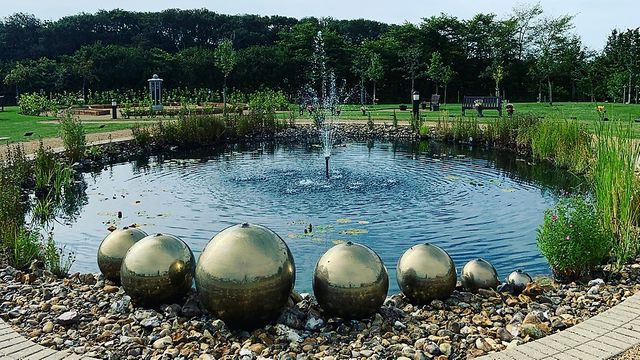 Admitting that mourners had been "exceptional in their acceptance and gratitude" she said that once restrictions are fully lifted – hopefully by June – many families are expected to hold celebrations for their loved ones.
And despite the immense challenges of the last 12 months, she added: "People have been observing the tradition of lining the streets as a funeral procession goes past.
"That has been one of the loveliest things that has happened.
"It's lovely for the families to know how much their loved one meant to people and that their drive up to the crematorium is less lonely. I hope that stays."
Admitting she was proud of how the funeral industry had responded to the challenges, she said: "The team here is so dedicated and committed and it's the only way we could have got through this."
The heartbreaking reality of Covid at the funeral front line and its toll on grieving families
The Denbighshire Memorial Park and Crematorium in St Asaph boss speaks out about the terrible impact of lockdown
A North Wales crematorium manager has revealed the heartbreaking realities of life during the coronavirus pandemic – including empty chapels and mourners forced to stay two metres apart.
Grieving families are not able to hug each other for comfort and the lectern has to be disinfected after every service, such are the changes forced upon the funeral business by the global health crisis.
Nan Wynne Evans, in charge of the Denbighshire Memorial Park and Crematorium, admits the reality on the funeral front line in the past 12 months has broken her heart.
"The overriding feeling has been sadness, watching people trying to cope with their grief while having to obey the restrictions," she said.
"Back in April and May last year, when things got really busy with some of the first victims of the pandemic, the services in our chapel were heartbreaking.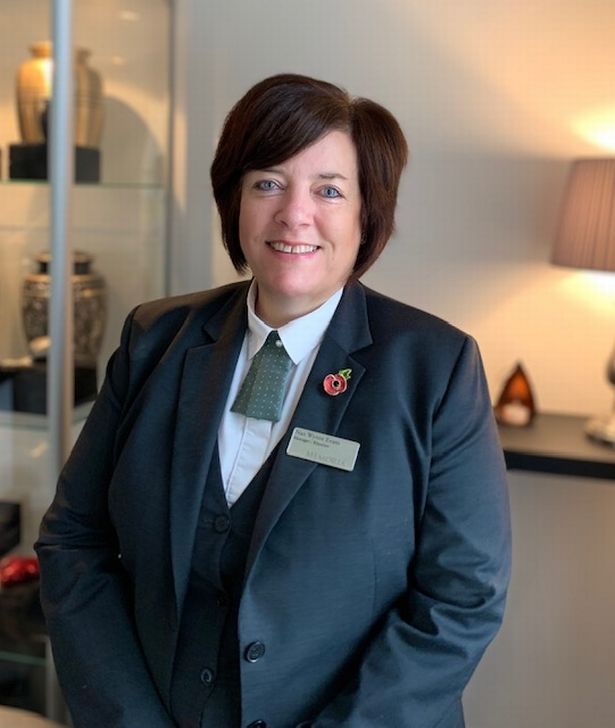 "Sometimes there was nobody there, just a minister talking to a webcam because the family couldn't come due to having to self isolate.
"Later on there might be only two people when normally you'd have a chapel full to give someone a proper send-off.
"It's been really hard watching those services and listening to the stories of what's happened through all of this."
With the number of mourners restricted to 30 – it went as low as 10 in June last year – and social distancing measures in place, Nan says families have struggled to come to terms with the impact of the pandemic.
The current situation is, of course, in stark contrast to this time last year.
She said: "Back then, we were still having full services. I can recall one in February 2020 where there were 100 people in the chapel, 50 people in the lobby and another 100 people outside.
"Around a month later it all changed very quickly. There were a lot of enquiries for people asking, 'Can I come to the crematorium? Can I travel to a funeral?'
"We were looking at the regulations every day to see what the government was advising at that time, but it was constantly changing.
"It was confusing and, of course, the news about the spread of the virus was really frightening."
At the height of the pandemic, the Denbighshire site – owned and operated by thethe Memoria Group – had to pitch in to help clear the backlog when crematoria in North West England became overwhelmed.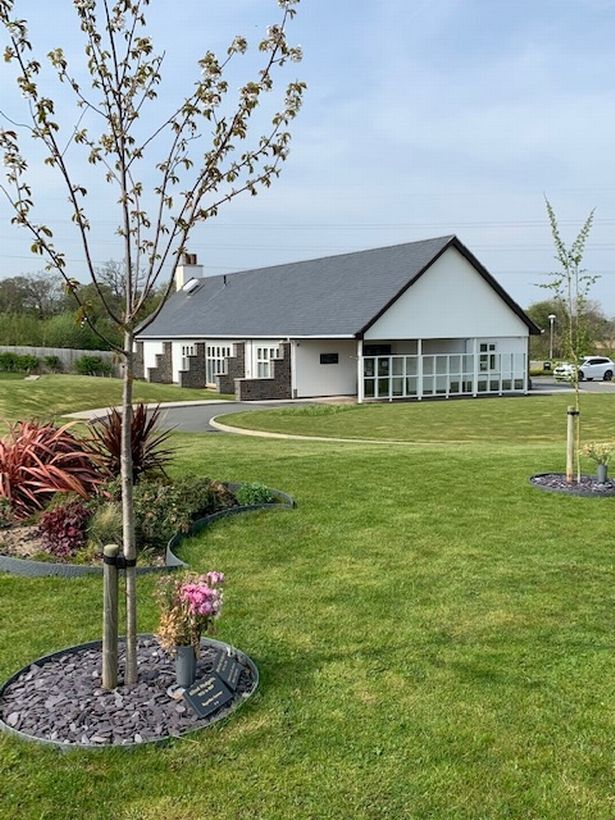 Some of those who had chosen direct cremations, when the cremation takes place without a service, were transferred to the North Wales coast where cases were not as high.
Now, almost a year into the Covid crisis, they are allowing 26 people into the chapel and all staff use full PPE and work independently of each other to ensure safety.
Nan, 55, added: "Because people have to sit two metres apart, we can only allow two family bubbles at the front and up to 12 other people who sit separately.
"We don't turn on the speakers outside because that could potentially encourage a larger group than the 30 that's allowed by law.
"But grieving families who want to be together to mourn their loved one and share with their family sometimes don't think about certain things.
"You can have families outside without masks on hugging and kissing before they go into the chapel."
The internet has been a useful tool, with webcasts of services providing huge comfort for family members not able to travel or attend.
But there have been challenges at every turn for Nan and her team of three staff, who have now received their first doses of Covid vaccine.
She said: "There have been so many decisions to make to ensure the staff and everyone who uses the facilities stays safe.
"We realise how lucky we are to have been able to carry out our duties. You hear all the time about people losing their jobs and their livelihoods, so to be able to still work is a huge blessing.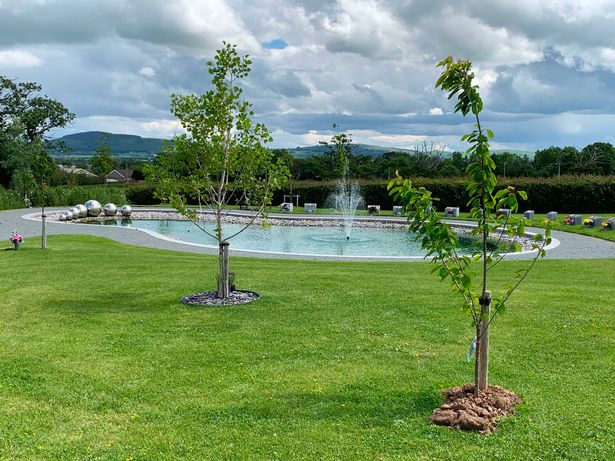 "Regardless of the circumstances, we've always been able to treat the deceased and the families with dignity and respect – that's been our overriding aim.
"We have relied on each other enormously for comfort and support, but more than anything we've worked together as a team.
"It's meant lots of split shifts, early starts and late finishes – but we've worked really hard to ensure everything has been done."
And the thing she's missed most in these testing times? Those famed Welsh voices soaring in song.
"Hymns are such a big part of the traditional services we have in Wales," said Nan. "In fact, many of the funeral directors we work with are members of choirs and often stand at the back of the chapel signing their hearts out.
"We've not had an organist since the start of the pandemic and it's been strange not to hear hymns like Calon Lan and The Lord is My Shepherd which normally offer plenty of comfort to the mourners."
The Memoria Group owns and manages 11 crematoria and memorial parks in locations throughout England and Wales.
For more information, click here.
No-frills funerals increase by 540% in four years as more people choose cheaper alternative
The average cost of a traditional funeral in 2019 was £4,000.
Direct cremations are rising in popularity across the UK as families ditch expensive send-offs and choose a more affordable, no-frills funeral instead.
More Britons are looking for cheaper alternatives to traditional funerals, with the average cost exceeding £4,000 last year, according to SunLife's most recent cost of dying report.
A direct cremation is a simple option where the deceased is cremated without a funeral service or ceremony. They are increasing in popularity in the UK and made up 14 per cent of all funerals last year, compared to just three per cent in 2019.
It is unclear how the coronavirus pandemic contributed to the increase in direct cremations, but lockdown restrictions and social distancing measures, especially during much of last year, meant limited numbers of people could attend funeral services and this may be an integral reason for the rise.
Funeral experts also point towards a greater emphasis on affordability, along with increased attention due to public figures such as David Bowie, who was given a direct cremation after his death in 2016 and fashion designer, Karl Lagerfeld, in 2019.
Low Cost Funeral, one of the largest funeral companies in the UK, has seen a 560 per cent increase in direct cremations since 2017, including a 56 per cent rise from 2019 to 2020.
The company's CEO Howard Hodgson said: "There is no doubt that there is considerably more choice today when it comes to choosing the right funeral for yourself or a loved one.
"There are a range of factors to take into consideration, such as price and style, but there are many ways to arrange a funeral that is personal and memorable.
"Direct cremations have gone from barely being on the radar of many people to becoming an increasingly popular and affordable choice for a fitting send-off.
"The traditional Victorian funeral can cost thousands of pounds and people are increasingly looking for options to suit all budgets.
"I think direct cremations will continue to rise in popularity and it will become more firmly established as an affordable and viable alternative to more traditional funerals."
What is a direct cremation and how much does it cost?
Low Cost Funeral's £950 direct cremation package includes the provision of a standard coffin, the collection of the deceased in a suitable vehicle, transfer to the crematorium and all cremation fees.
The body is then cremated and the ashes are either returned to the bereaved family or scattered in the crematorium's Garden of Remembrance.
For more information about direct cremations, visit af.wearebauercreate.design.
© Affordable Funerals 2022 - All Rights Reserved
Affordable Funerals is a trading name of Low Cost Funeral Limited, registered in England and Wales, Company number: 10119791 registered address: The Pool House Bicester Road, Stratton Audley ox27 9BS ICO number: ZA201936. Low Cost Funeral Limited is Authorised and Regulated by the Financial Conduct Authority, view details on the financial services register with firm reference number: 965287